This car – boat – car transport, quickly transfers travelers between the Arenal and Monteverde areas by boating across Lake Arenal.
Our vehicles will come to the hotel where you are staying to pick you up.
The first part of the journey is getting you from your hotel to Lake
Arenal. This will take approximately 20 minutes if you leave from La Fortuna, or about 1 hour 45 minutes from Monteverde.
After arriving at Lake Arenal, you will take a boat ride for approximately 45 minutes. If you are headed to Monteverde, you will arrive in the Río Chiquito area. If you are headed to La Fortuna, your boat will take you to La Represa area. No matter which direction you are headed, this is a great chance to enjoy a ride across the lake and a view of the volcano.
Once you have crossed the lake, our vehicles will be ready to take you to your destination hotel in La Fortuna or in Monteverde. Taking the shortcut across the lake is a great and faster way to travel between the beautiful towns of La Fortuna and Monteverde.
Jeep Boat Jeep Schedule: 8:00 AM – 2:00 PM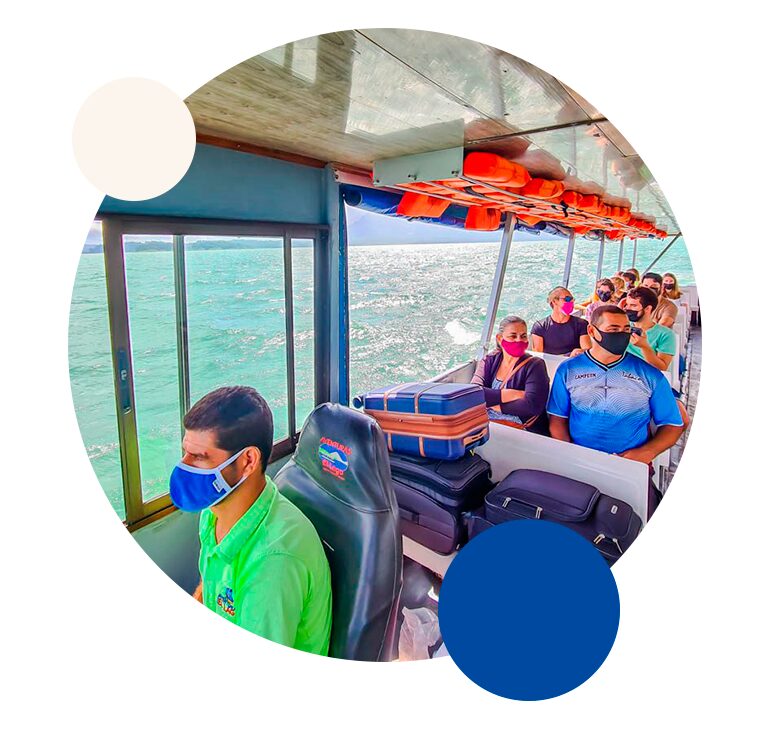 If you are looking for private ground transportation between any cities in this amazing country, we can coordinate that for you. Driving in a foreign country might not be in your vacation plans. We understand. We can arrange transportation for you and the people you are traveling with between each of your destinations in Costa Rica.
Our private ground service guarantees punctuality, comfort, experience and secure door to door transportation to any part of Costa Rica 24 hours a day.
This is a highly individualized service and, therefore, the cost of this
service is also highly individualized. Send us your name, the number of passengers, the hotels or addresses of where you wish to be picked up, any stops you wish to make along the way, the length of said stops, and the hotel or address of your destination. With this information we will plan routes and give you a quote for the cost of this transportation.