Monteverde is a cloud forest located in Costa Rica. It is a popular destination for eco-tourism and nature lovers due to its unique ecosystem and diverse wildlife. Monteverde is home to over 400 species of birds, including the Resplendent Quetzal, as well as many species of mammals, reptiles, and amphibians. The cloud forest is characterized by its misty atmosphere, lush vegetation, and winding trails, and it offers a range of activities for visitors, such as guided hikes, zip-lining, and birdwatching. The nearby town of Santa Elena provides accommodation, restaurants, and other amenities for visitors.
Monteverde is the twelfth canton of the Puntarenas province of Costa Rica. It is located in the Cordillera de Tilarán mountain range. Roughly a four-hour drive from the Central Valley, Monteverde is one of the country's major ecotourism destinations. The area is host to the Monteverde Cloud Forest Reserve and several other natural attractions, which draw considerable numbers of tourists and naturalists.
National Geographic has called the Monteverde Cloud Forest Biological Reserve "the jewel in the crown of cloud forest reserves". Newsweek has declared Monteverde the world's #14 "Place to Remember Before it Disappears". By popular vote in Costa Rica, Monteverde was deemed one of the Seven Natural Wonders of Costa Rica, along with Isla del Coco, Volcán Arenal, Cerro Chirripó, Río Celeste, Tortuguero, and Volcán Poás.
Santa Elena is the head town. Its homes and businesses serve as the region's tourist hub, along with the nearby neighborhood of Cerro Plano, the community of Monteverde proper, and numerous reserves and attractions in the greater region.
In recent years, the area's rapidly increasing numbers of tourists has brought a sizable influx of Costa Ricans from other towns and cities. Now, an estimated 250,000 tourists visit Monteverde a year. Improved goods and services, including partially paved roads, have arrived in recent years. In 2007, Costa Ricans voted Monteverde one of Costa Rica's Seven Wonders, along with Isla del Coco, Tortuguero, Arenal Volcano, Cerro Chirripó, Rio Celeste and Poás Volcano.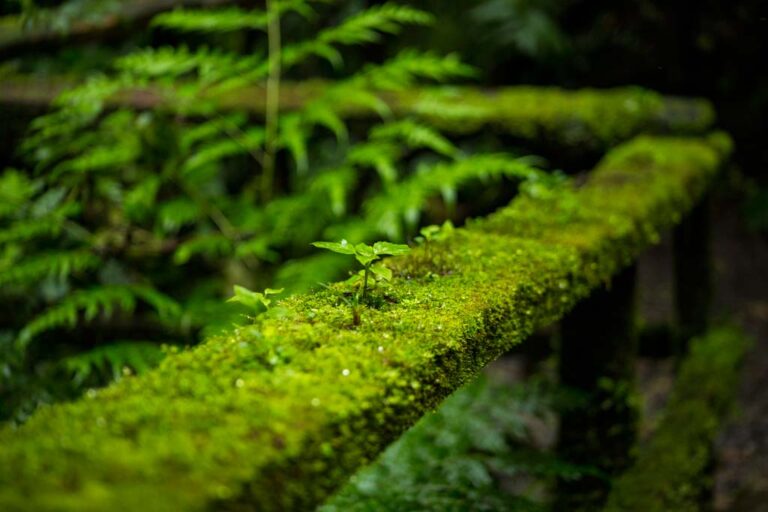 One of the many eco-tourism oriented suspension bridges in the area.
Due to the area's cloud forests and rain forests (including seven different ecological life zones), Monteverde has become a major part of the Costa Rican tourist trail – despite difficult access. Readers of the country's leading newspaper La Nación voted it one of the "7 Wonders of Costa Rica". Of Monteverde's quarter-million annual tourists, around 70,000 tourists visit the reserve.
The bulk of Monteverde's cloud forest can be found in the Monteverde Cloud Forest Reserve. The area around the park entrance is the most visited, and features six main trails, which total 13 km, are well-kept and easy to access. The reserve features a large network of less-accessible trails and a number of research stations, two of which house ten persons each, as well as one larger station that can house as many as forty-three persons, though these are now restricted to use by researchers only.
To the east of Monteverde lies the Children's Eternal Rainforest (El Bosque Eterno de los Niños) conservation area, a project funded by schools and children from all over the world. The Bosque Eterno is the largest preserve in the area with 22,000 hectares (54,000 acres). Farther north is the Reserva Santa Elena. This area attracts fewer tourists than the Monteverde Reserve, but offers a field station and views of Arenal Volcano.